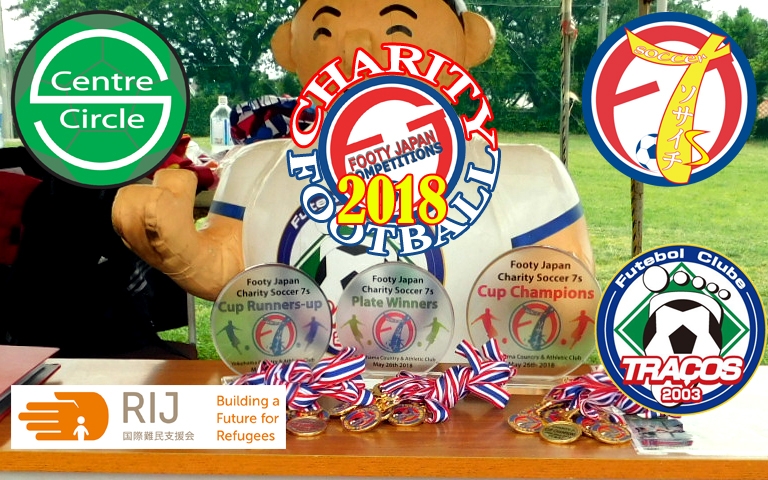 Who said 'those who can't, teach'? British Football Academy coaches prove this wrong!
Match Reports -
May 30th 2018
Saturday saw us hold the 4th edition of our Charity Football Day. It's always a logistical challenge holding two completely different tournaments within the space of 8 hours.
This year we were raising money for 2 Charities. We welcomed TRACOS this year who help teach disabled children and Adults the beautiful Game. We also continued our long tradition of raising money for Refugees International Japan.
The morning started with our termly iNTERLiga tournament. British Football Academy members aged 5~12 all participated to try win some of our famous medals. TIS Tigers an all Girls U12 team, Potreo FC and YC&AC were also invited to join in the fun.
The morning was a great success with over 100 kids playing many matches. The tournament ended with a huge photo of all the kids and their parents posing under our Charity 7s banner. To the delight of the kids (and many adults too) everyone enjoyed free Ben & Jerry's Icecream courtesy of Unilever. A Huge thanks to all of the sponsors of this annual event, including: Specialized Group, Banner Asset Management, NN Life, H&R Group, JUSTA, Robert Walters and all the generous raffle sponsors.
The kids pitches were soon torn up and replaced with 2 x 7 a side pitches and it was ready for the adults to kick off the Charity Soccer 7s.
Group A saw only 1 goal scored in the opening matches and that was from debutants Ye Boiz who beat 7s regulars Shunsuke FC.
Group B saw London Utd and BASE04 also fail to score. Goals were seen when Footy Japan and their team of British Football Academy coaches upped the level of the tournament and scored 4 against current Summer 7s holders Collezione FC. The first being a sublime team goal with the assists being a lovely backheel from the 'volante' player.
Group C saw DAZN streaming away with a 1-0 victory over Budgie Smugglers. Specialized Group and KAIS Llamas played out a 1-1 draw.
The 2nd round of matches saw some big victories. Collezione scored 6 past Base04, BFA coaches scored another 3 and Budgie Smugglers knocked 6 past Specialized Group.
The final matches saw some teams try their best to avoid the Plate Tournament. Shunsuke FC played a blinder by beating NNLife 3-0 meaning they gained the extra point needed to guarantee them some Cup action. Collezione FC and BFA coaches continued to score freely as did DAZN who knocked 3 past Specialized Group.
Once all the group stages were over it was time for another group photo under the Sponsors Banner.
The tournament was running on time until the dreaded PK shootout in the first Cup ¼ Final between Shusuke FC and Ye Boiz. Some great penalties were taken but Ye Boiz held firm and went into the Semi Final after winning 5-4. BFA coaches knocked 4 past NNLife. Sid Lloyd was on fire as were all the BFA coaches' attackers. They had great support from 4 BFA kids who stuck around to watch their footballing idols.
The other Cup 1/4s saw DAZN beat Budgie Smugglers in a tight match. Collezione then defeated London Utd 3-0.
The Plate Semi Finals saw KIAS LLamas narrowly lose to Tomo FC 2-1. Conveniently the next match to go to penalties was on the other pitch so this helped the tournaments schedule no end. Specialised group and Base04 had a nervy shootout but a fine save by (YC&AC) goalkeeper Richard, saw Specialized Group go through with a 3-2 victory.
The Plate final was a one sided affair with Tomo FC scoring early and it ended up being a 6-0 victory. Well done Tomo FC.
In the Cup Semi Finals, Collezione beat DAZN 1-0. DAZN have now reached the last 2 Semi Finals without getting to the finals….Bring on the Summer 7s.
BFA coaches were up against the long ball team of Ye Boiz. Coach Dave and Andre dealt with everything that was pumped towards them. The midfield anchor was marking the Ye Boiz Captain out the game and the BFA coaches looked to win the first header and then use the pace of Ryosuke and Nikolai to counter. It worked as BFA coaches scored another 3 goals to reach the final.
The final saw many tired legs but this was more of a contest than their opening match earlier in the afternoon.
The opening minutes were tight but after Ryosuke entered the pitch it all changed. He scored 2 quick goals, Collezione hit back with a penalty after being fouled in the box. BFA coaches soon wrapped it up with Nikolai scoring with a nice finish. 3-1 the final score and BFA coaches won their own 'parent company's tournament. Special mention to Chama who shared the striking role with Sid all afternoon on an empty stomach as he was fasting for Ramadan.
The tournament was a great a success for the 400 odd people involved in playing, watching and sponsoring the event.
Thanks to YC&AC for hosting us and the 4 referees (Quentin, Steve, Manuel and Ju Young) who helped the day run smoothly.
To view all the photos from the day please click HERE.