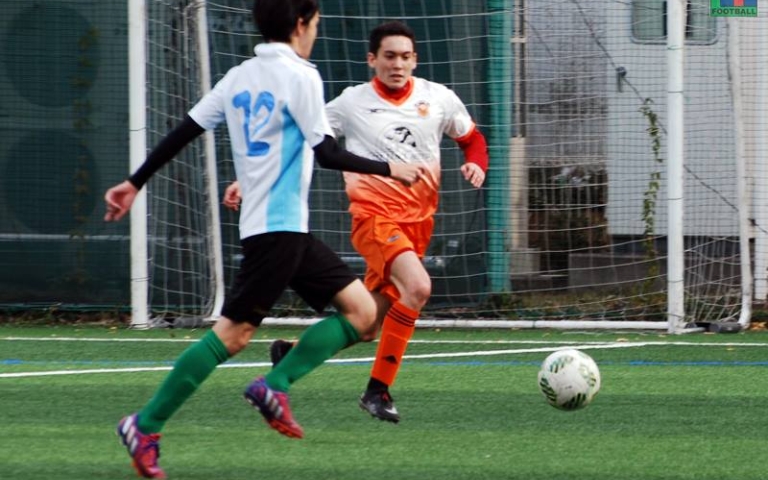 Last-minute Winner puts a Spring in KGFC's Step
Match Reports -
April 2nd 2017
When non-footy people ask how we keep going after soul-crushing, debilitating 7–0 defeats on bitter-cold January nights, the answer is days like these.
The pale sun sat low in the spring azure, gently warming the Sugamo battleground. Clad in borderline-offensive orange, KGFC lined up against third-placed FC Sagarmatha for a tightly contested Division Three match.
In a battling first half, both sides were limited to speculative efforts on goal as Tomoki Shiota marshaled the KGFC defense with authority and keeper Ryosuke Urai swept up loose balls with the speed of a peregrine falcon.
0–0 at halftime was a scoreline nobody could dispute, yet the lone spectator appeared satisfied, even pleased by what he'd seen. Little did he know, there was much more to come.
Minutes into the second half, the match exploded into life.
Playing in an unfamiliar central defensive role, Ben Steinson latched onto a beautifully weighted Colin Cameron pass, sweeping the ball beyond the Sagarmatha keeper from at least 25 yards – maybe even 30. 1–0 KGFC.
It was a remarkable goal by a man who KGFC captain James Bates had flat-out refused to pass to on several occasions throughout the match. Needless to say, Steinson had the last laugh.
But, as so often in life, minutes later, the hero became the villain as a Sagarmatha corner ricocheted off Steinson's meager buttock into the back of the KGFC net. 1–1.
Fortunately for KGFC, there was still a twist left in the tale of this match.
With a minute to go, KGFC won a corner, which was whipped in by Bates. The ensuing scramble saw the ball ping off the heads of Sean Carroll, Alex Short and finally Winston Pool, who nodded it safely beyond the hapless keeper. 2–1 KGFC.
Seconds later, the whistle blew and cries of unbridled joy rang out, drawing accusing looks from passersby. It didn't matter, though – the three points were in the bag, and it wasn't even 11 am.
Rejuvenated by a controversial new formation, the undisputed kings of Saitama have now recorded three wins in their last four outings. Next up, a mouthwatering local derby against Shane FC.