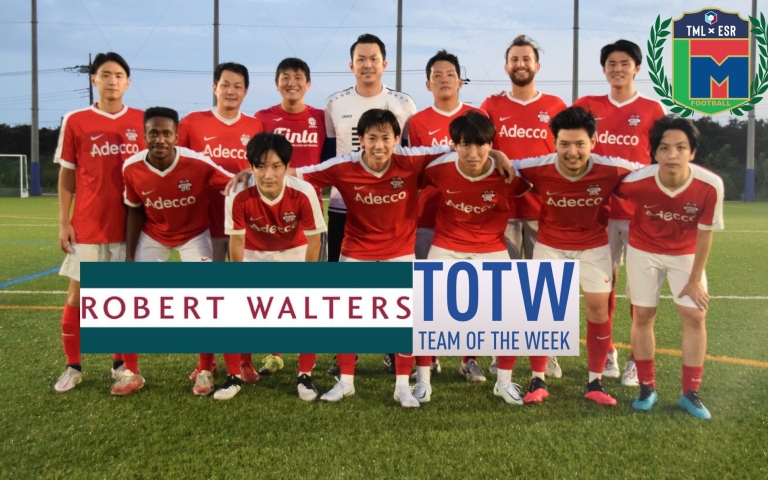 Robert Walters Team of the Week (Sept 10)
Announcements -
September 9th 2022
Quite a few teams were able to get their first game out of the way on the third weekend of TML 20.
Nomades played their first TML game against BFC. One of the newest teams to join the league vs a team that has been participating in the TML since its inception. The game ended in a 1-1 draw, a result that perhaps favors Nomades.
Trust United FC also played their first game against Celts. Led by captain Tokoi Shintaro, a former Hibs player, Trust United put on a strong debut winning their game 6-3.
The Robert Walters Team of the Week goes to BEFC, who played there first game this weekend at BST against last years runners up, Zion. The game started off very much in BEFC's favor, their players were aggresive winning a lot of loose balls and creating a lot more forward momentum through out the game. Their defensive line was quite involved in the build up and attack of their team, making it a very well rounded preformance from everyone.
However, after intercepting a pass in BEFC's half, Zion slips a through ball to Daigo Mizuki who is left one on one with the keeper. He calmly slots it away and gives Zion a lead.
The momentum BEFC had slowed down greatly and it seemed like Zion regained some confidence. This was until Zion commits a foul just outside of their box.
Keita Suzuki scores a perfect free kick, solidifying his status as one of the leagues best free kick takers. Their second goal came from their golden boot winner of TML17, Ririo Bato. Ririo has been out of action since TML 17 due to an injury so there was no better way to celebrate his return by scoring the winning goal for BEFC!
Congratulations to BEFC for winning the Robert Walters Team of the Week!