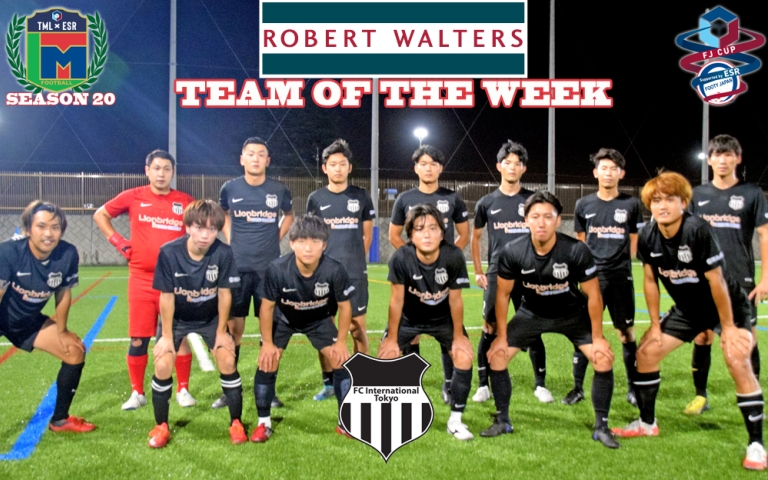 Robert Walters Team of the Week (Nov 5)
Announcements -
November 8th 2022
The Robert Walters Team of the Week goes to FC International after their 3-0 win over Zion FC.
Zion were missing their golden boot winner which reflects in their 0 goal showing, but even so FC International had a much sharper preformance deserving the Team of the Week.
Footage from the game can be viewed here (courtesy of FC Zion)
https://player.stadiumtube.com/teams/yNJis7Dn3zhUlYenE9F3i
The game started off quite even, both teams gave each other no space to move the ball around.
FC International strike first with an opening goal 20 minutes in. Yurai Nakamura recieves the ball in a pocket of space outside the 18, nutmegs his defender as he turns, and places a shot where the keeper cannot even touch it. (22:45)
Their second goal was scored by Cho Suhyeon off of a cross. The header was beautiful, however the Zion left him completely uncontested inside the 18!
Hiromitsu Shino closes out the game with a final goal, beating the goal keeper near post (1:12:30) making the score 3-0.
Zion had a few chances of their owns and even a costly 1v1 with the keeper that was not capitalized on. As the game proggressed, the difference in fitness started to become more and more apparent and was reflective within the ball possesion stats.
Hopefully this win puts FC International back in their usual form. Classically known as one of the power houses of division 1, FC International did not start the season off well. They were right in the middle of table with a 2 wins, 1 draw, 1 loss but this win over Zion puts them tied in second place with 2 other teams. The league is still for anyone to win!
Congratulations to FC International for winning the Robert Walters Team of the Week!