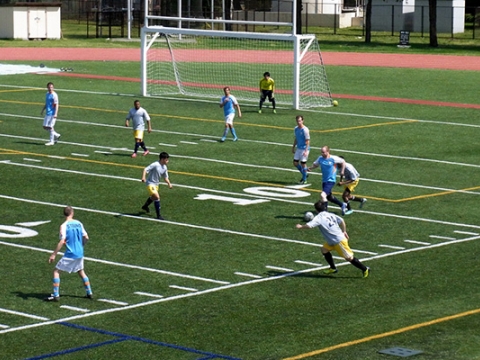 Address
セブンイレブン横田第2ゲート店, 2262−1 Fussa, Tokyo 197-0011 (this is a 7/11 about 30 seconds walk, straight across from the Yokota Air Base Main Gate)
Directions
15 minutes walk from JR Fussa St on the Ome Line.
Car Navi
042-530-6010 (7/11 across from main gate of Yokota Air Base)
Surface
Artificial 3G 'rubber crumb' turf
Facilities
Toilets; Food Court roughly 15 min. walking distance, 2 min. by car includes: Subway, Anthony's Pizza, Popeye's Chicken, Taco Bell, Chili's Bar and Grill
This pitch is on a U.S. Air Base; players must arrive at least 60 min. before the scheduled match to complete the registration process to gain base access. To register a team on the day of a match can take anywhere from 15min. up to 60 min.; to help ensure a speedy registration process, teams are encouraged to complete a pre-registration sheet in advance; though players not pre-registered can be added the day of the match unless they are from a restricted country.
To gain access to the base and register, players must have a valid picture ID – Passport, Japanese National ID or Driver's license (if using a driver's license one must know their four digit pin code) – no exceptions.
Players can drive on base and register their vehicle; however all the paperwork, insurance, etc. on the vehicle must be current and valid. NOTE: it is recommended teams' arrive by train or try to car pool as teams may be limited to the number of cars they can drive on to base.
Players from countries with restricted access must pre-register up to two weeks in advance of the match in order to gain access to pass a background check.
Once registered on on base, players are given a guest pass and assigned a sponsor; players must return the guest pass to their sponsor who escorts them on and off base for the match.
Smoking and drinking alcohol are not allowed
No metal spikes or studs or high heels allowed on the turf
No food of any kind on the turf
No sports drinks or beverages of any kind other than water allowed on the turf
Remove all waste and dispose of any trash in the trash bins available
No pets
As the pitch is located on a High School ground, players are required to watch their language and avoid using profanity as children and families may be in ear-shot.