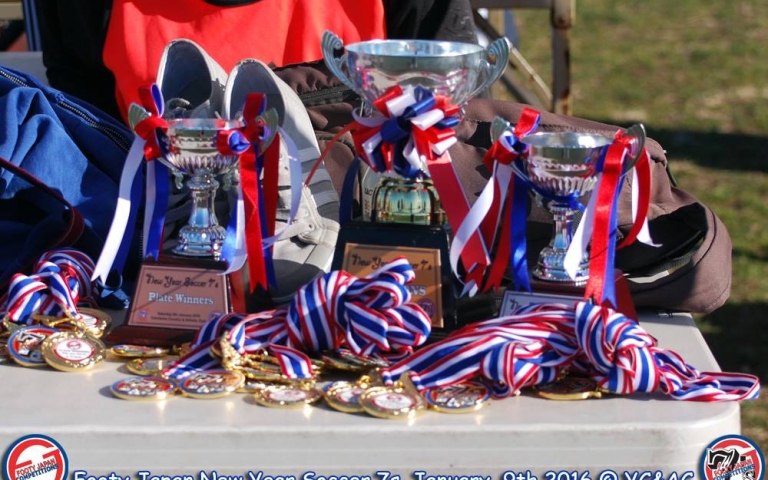 Tachikawa01 break through the wall to secure cup glory
Match Reports -
January 13th 2016
NewYear Soccer 7s:
Saturday 9th January @ YC&AC
The most common expression I heard on Saturday morning apart from the standard 'Happy New Year, How was your Holidays' was "I can't wait to start burning of the extra pounds I gained over the festive season.' With that in mind, it was obvious that everyone was going to run hard, tackle hard and then hit the wall! Judging by some of the Knockout Round results this happened around 2pm!
With beautiful blue skies, a slight chilly breeze, all 14 Captains on time and all 4 referees present you would think that the tournament was ready to kick off on time. Shame the Keihin Tohoku line wanted to try and ruin our morning with delays. 13 of the 14 teams had enough players to kick off on time. The one team that didn't, Albion Old Boys had 4 players and were due to kick off first. Time for myself to get my kit on and recruit two refs in Steve and Kazu to make up the numbers and the New Year 7s kicked off.
The under prepared AOB soon went 3-0 down to a strong looking FC International. The final result was 7-1. The one being scored by Steve with arguably the best finish of the whole day. Left foot volley from 15 yards out. The other match saw pre tournament favorites Swiss Kickers defeat Setagaya Park Rangers 5-1.
Group B saw the return of the Hell Cats. They were Previous New Year Champions and at one stage held all 4 7 trophies in one season. They returned with a hard fought 1-0 victory over 7s New boys FC Nankatsu. 7s regulars British Embassy kicked off their day also facing a new team. Tachikawa01 played a good game and won 2-1.
Group C and the smallest of the groups with 4 teams saw YC&AC 1868 defeat yet another new team the Big Bad John Admirals (BBJA)' 4-2. The name comes from the team's American Navy ship if you were wondering! 7s regulars Inter MinatoMirai and Kanto Academica fought out a close battle but the teachers team of Academica won 2-1.
Next round of matches saw the last 2 teams kick off. Thapa and his pink shirted Subarashii FC team lost out 3-2 to AOB. Pumas beat Tachikawa01 3-1. Notable results from the 2nd round of matches saw Kanto Academica beating BBJA 4-0 and a 7 goal thriller between FC Nankatsu and the British Embassy. Nankatsu clinched it 4-3.
We also saw the first big heavyweight match of the day. Swiss Kickers v FC International. I actually watched this match and it was a very exciting. Swiss seemed to change their usual passing tactics for a long ball approached which FC International dealt with well and scored right at the start of the match and sealed the 3 points with another with a minute to go.
The last round of matches saw some very close results. Setagaya played a blinder but were unable to hold on and lost to FC International 1-0. Hell Cats were surprisingly struggling and lost 4-1 to Pumas. FC Nankatsu lost 3-2 to Tachikawa01 who were slowly building up momentum.
YC&AC who had a mix of youth and experienced players lost to Kanto Academica 1-0, Pumas dropped their first points v FC Nankatsu.
With the group stages finished it was time to work out the complicated knockout fixtures. With the top 8 sorted and the Plate Semi finals drawn it was time to wave goodbye to British Embassy and Subarashii.
The first Cup ¼ finals saw Swiss Kickers beat YC&AC 8-1 and Pumas defeat Setagaya Park Rangers 4-1. Remember that wall I was talking about earlier? Next up saw Tachikawa01 up against the Kanto Academica and FC International v Inter MinatoMirai. Tachikawa01 and FC international both won 4-2.
Plate Semi finals saw Hell Cats score 5 past FC Nankatsu and it was time for BBJA to sail away after a narrow one nil loss to AOB.
Cup Semi Finals saw Swiss beat Pumas. A Pumas player suffered a nasty back injury. He managed to crawl off to the side of the pitch where he remained for the next hour until the Ambulance arrived and straightened him out! The other Semi final saw Tachikawa01 beat FC international 4-2.
The Plate Final saw AOB hit their wall and the Hell Cats easily won by 8 goals to nil.
If you are still reading this and have read previous 7s reports you know that I usually comment on how the Cup final is usually a slow match with both teams tired and all they want to do is play keep ball and not attack. Bit like watching Man Utd train I expect!Swiss Kickers v Tachikawa was anything but…..It was a great match. End to end and played at a fast pace. Tachikawa defeated Swiss 2-1. Not bad for their first 7s tournament.
A huge thankyou to Chris and all his staff at YC&AC. Also thanks to the four referees in Quentin, Kazu, Steve and Jonathan.
Congratulations to our Winners Tachikawa 01 and Hell Cats.
To view all the photos from the day please click HERE.
All the best for 2016.