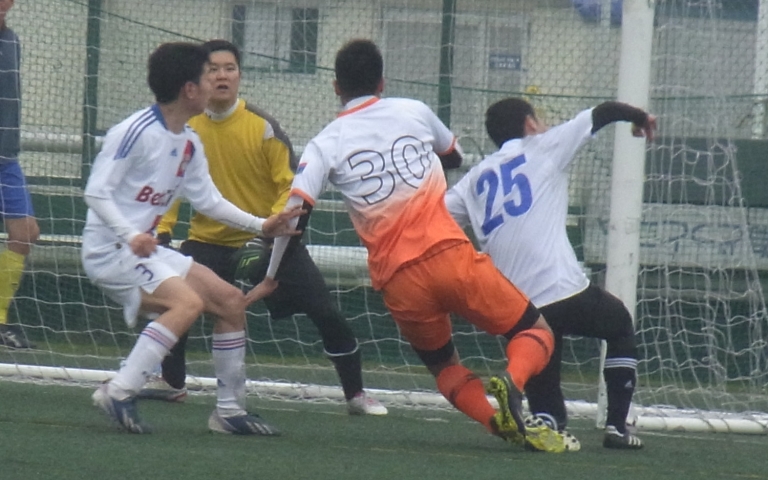 King George Blow Nine-match Losing Streak by Winning
Match Reports -
April 7th 2015
King George FC 4 Dutch 2
YC&AC, Sunday 5th April 2015
After a winless four months, KGFC produced a commanding performance to stun relegation rivals Dutch FC 4–2 at the YCAC ground.
Two goals from team pinup Keigo Kameya, and a goal apiece from Sean Carroll and the returning Jo Ninomiya were enough to earn the three points for the Kings of Saitama.
Buoyed by the return of Ninomiya and the addition of more of the Bates bloodline in form of Nephews Toby and Henry Cutting, KGFC began the game with hopes of stringing four or five passes together – hopes which were dashed two passes into the game when James Bates deftly hoofed an ambitious (to say the least) ball up field.
With a sense of reality well and truly established by that ridiculous long ball, KGFC resumed their tried and trusted brand of direct, if not patient or easy on the eye, football.
And it was a style that, for the most part, showed signs of promise as KGFC began to dominate the game, allowing defender Christopher Stubbings ample time to contemplate life's greatest mysteries as he stared for long periods at the intersecting white lines that marked the pitch.
KGFC's dominance paid off mid-way through the first half when a lofted effort from Ninomiya was fumbled by the opposing keeper and headed home by Captain Carroll. 1–0 KGFC.
Shortly after the breakthrough goal, Carroll was involved in the action again, flicking on a Tomoki Shiota clearance into the path of Kameya who raced clear to finish with aplomb. 2–0 KGFC.
After halftime, the Kameya-Ninomiya partnership, supported by Colin Cameron and Marcus Tanaka on the wings, continued forging out chances for a commanding KGFC with one such chance ending in Kameya bundling over several members of the opposing team before smashing the ball home. 3–0 KGFC.
King George were well on top, and, after almost a year out of the game with a suspicious back injury that seemed to coincide with the arrival of a new girlfriend, Ninomiya got on the end of a Kameya flick on and slotted the ball past the oncoming keeper. 4–0 KGFC.
At this point, everyone wanted to get on the score sheet – this was no more evident than when Bates unleashed a wild attempt at goal, which lofted high into the air as if hit by a sand wedge, only to chest it down himself when it eventually fell back to Earth in an outrageous one-two maneuver.
As KGFC began to coast, the Dutch rallied, scoring two late goals, but KGFC held on for the win.
Heading into the final five games of the season, KGFC will need more of the same if they are to avoid relegation.
A special mention should go out to the Rt Hon. Mike Burns who tried to incapacitate many of the KGFC players by holding an all-night rave, which featured the musical stylings of Barry from Eastenders.
BS
Gallery