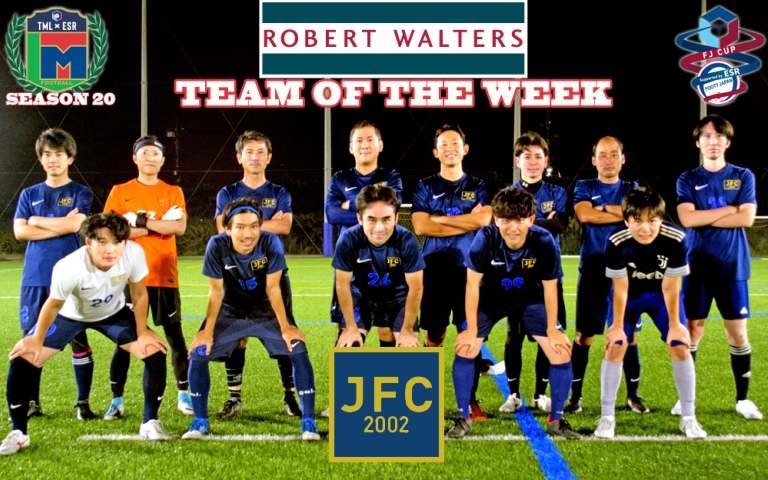 Robert Walters TotW (January 7)
Announcements -
January 11th 2023
Jetro FC kicks off 2023 with a banger of a win to earn the Robert Walters Team of the Week. After a long xmas break for the TML, the very first fixtures of 2023 was kicked off at YCAC on January 7th 9:00AM by Jetro FC and King George. Jetro's season has been riddled with ties (4 in total) putting them just above King George by 2 points. As the standings table indicate, there is a far smaller gap in points between teams allowing each game to truly be competitive. This game was going to be no exception.
As sleepy faces arrived to the pitch, each of them looking a bit rounder from the extra weight picked up over the holidays, the game kicked off at high intensity.
The game was well-balanced, both teams employed a similar strategy of playing predominantly down the middle and playing quite direct. With very little build up play employed from either team, the game was a montage of fast pace attacks with many turnovers and transitions. In midst of this chaos, Jetro scores the opening goal in an otherwise very even game.
But due to the nature of the playstyle being used by both teams, the fitness gap started to show in the later stages of the game. With only 30 minutes left in the 1-0 game, King George were visibly getting tired and could not keep up with the pace of the game. Jetro FC capitalized on this through several counter attacks. Within a short span, they piled 4 goals to completely seal away the game. Although the game was very even for the first 50 minutes, the difference in stamina separated the two teams creating a 5 goal difference.
Congratulations to Jetro FC for winning the Robert Walters Team of the Week!