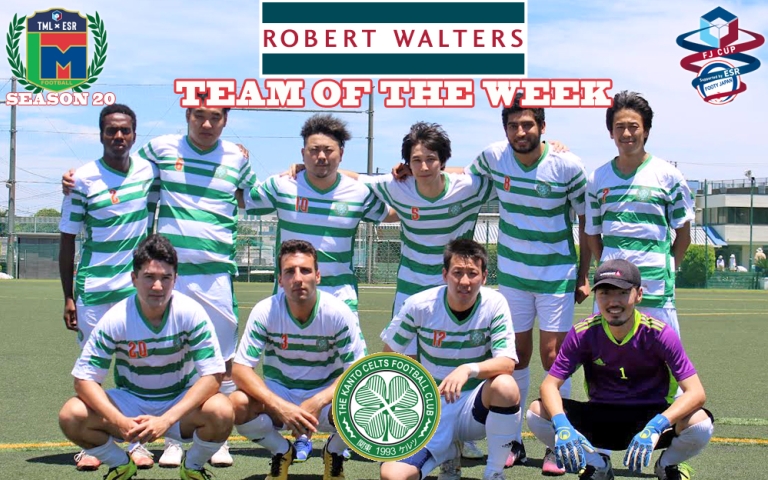 Robert Walters Team of the Week (November 19)
Announcements -
November 21st 2022
A very tough week down at the Footy Japan offices, where we have lost the ability to get matches played at the prized BST pitch. We once again would like to remind all the players that the pitches are not owned by us, thus everyone at such venue should be on their best behavior.
This weekend yielded some interesting results. A draw between Eastern Capital and Hibernian FC, where Eastern Capital had the lead until the final minutes of the game until Sukui Ono tied the game with a goal. A well earned result for Shane FC as well who got their second point of the season with a draw against YC&AC. Last but not least, another collosal win by Trust United with both of their key strikers scoring 4 & 6 goals. At this point, the Trust United Duo have literally scored more goals than any other single team have collectively.
The team of the week goes to Kanto Celts, who played versus YeBoiz FC. YeBoiz have yet to lose a game this season and it was looking like they would continue that streak against Kanto Celts. Veteran Sho Enokido and new signing of this season, Jordan Touati score a goal each for YeBoiz to make it 2-0 in 30 minutes. With only a mere 6 points to their name, it was looking doubtful that Kanto Celts could pull this one off. But if there was anyone on Kanto Celts that could pull it off, it would be Tatsushi Hatano and Junya Tanaka. And boy did they pull off a comeback. With about half the game gone, Kanto Celts go on a massive push to try and get back in the game. In a fierce battle that ensued Tatsushi Hatano scored a pair and Junya Tanaka scored a single to give Kanto Celts the three goals needed.
This puts Tatsushi Hatano the 3rd top goal scorer in division 2 (after the two Trust United FC players who have stats similair to Halaand) and raises Kanto Celts dead center in the tables.
This is YeBoiz's first loss of the season. A bitter one for them especially given that they had a two goal lead.
Congratulations to Kanto Celts for their comeback victory and earning the Robert Walters Team of the Week!