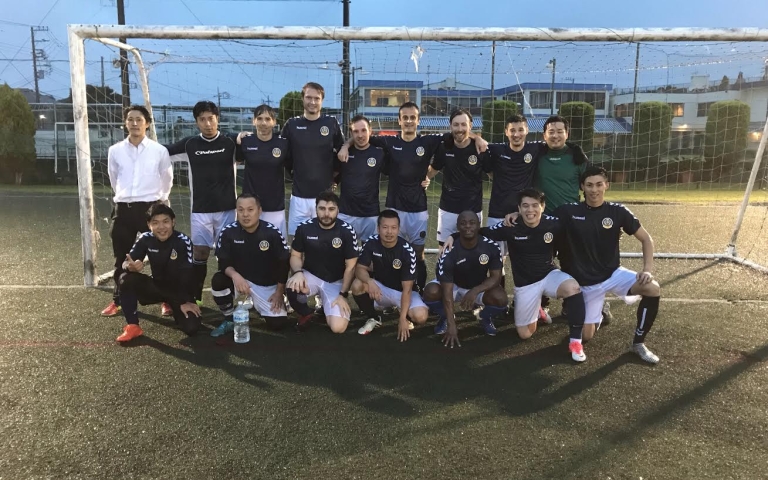 Robert Walters Team of the Week 37
Announcements -
July 7th 2019
This week, we have Shane FC winning the Robert Walters Team of the Week!
With the rain and wind beating down on the players, the YC&AC field refused to flood so as to not allow another rescheduling of games. The howling wind proved to be useful, drowning out the whining from the players. Before TML's very own camera man even arrived to the pitch, Shusuke Nakatani (Sala FC) added another goal to his resume. Even though he is the confirmed golden boot winner of division 2, Shusuke looked unsatisfied with how the game was going. He was right to be concerned, as Shane's Edwin scored in the first half to equalize the game.
As the game progressed, fouls became more apparent on both sides. In the second half, a dubious penalty gets awarded for Shane. Tobias steps up. As he frantically calculates the wind speeds, the friction reduction due to the rain, he failed to calculate his team mate that was still fixing his hair (Ryosuke). Sala's Keeper makes an enormous save and deflects the ball to where Ryosuke would have been if he wasn't busy parting his hair. It seemed like Sala had luck and momentum on their side after coming out of the penalty without conceding. And than out of nowhere, a perfectly calculated shot (not a cross attempt) by Atsushi lobs the keeper to give Shane the victory. This ends Sala's win streak and gives Shane their 6th win of the season. Despite having nearly opposite standings, Shane overcame the rain, the wind, and their opponent to win the Robert Walters Team of the Week!
Fun fact. Panthers, who have not seen a win in several months, finally broke their spell on Saturday. Shane beat Sala who are at the top of the table and guaranteed to get promoted. Both teams did not have their usual Nikolai. Shane and Panthers may need to reconsider their roster.
Congratulations to Shane winning the Robert Walters Team of the Week!