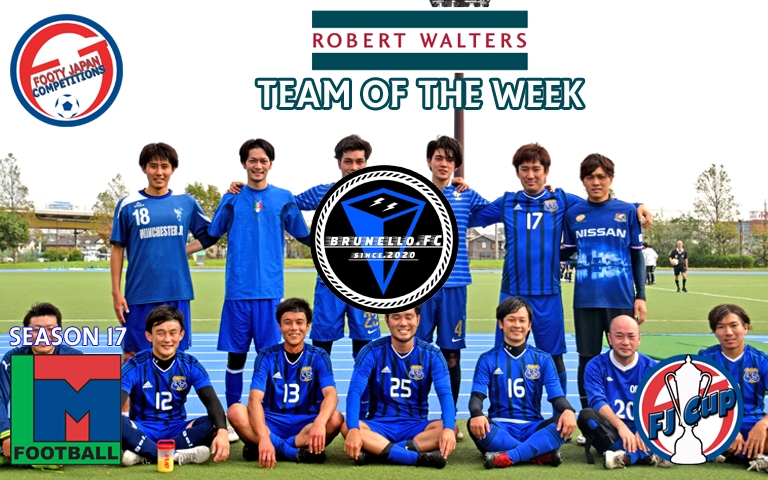 Robert Walters Team of The Week 11
Announcements -
March 17th 2020
With the current events happening, several pitches have closed down. Hachioji closed down for the entirety of March, thus Fussa vs Brunello and Albion Old Boys vs Jets was moved over to Shigaku.
The hottest fixture of this weekend was the division 3 match between first and second place, Fussa (1st) vs Brunello (2nd).
The first time these two played, it was in August at Shibuya Sports Center. 4-0 for Fussa, a lopsided victory for the base boys.
Fast forward 6 months later, the two faced off again on a sunny Sunday afternoon. As both teams clawed at each to get the early advantage, the score remained a draw until deep into the second half. Fussa's Yuta Mochizuki scores the opening goal. As everyone started to chalk the match as another Fussa win, Brunello had other plans. Rinta Takahashi equalizes the score 5 minutes after. Kunitoshi Haraguchi follows up within minutes to finalize the score as 2-1. This is Fussa's first loss of the season and gives Brunello a slim chance of finishing first place. Fussa would need to lose their upcoming games and Brunello would need to make sure they win their remaining games for that to happen.
However, given that Brunello have to play against King George, we can safely say they won't be winning all of their remaining games!
This is 2 games in a row where Brunello have comeback from a losing score. Their previous game against K2 was an even more impressive feat. From losing 4-1 with 10 minutes left on the clock, Brunello scored 4 rapid goals and changed what would have been K2's comfortable win to a bitter loss.
Congratulation to Brunello for their diligant comebacks these past two fixtures and winning the Robert Walters team of the week month!
Naoki Sugita's brilliant lob over the keeper:
https://www.facebook.com/129984993720439/videos/252978235866030/