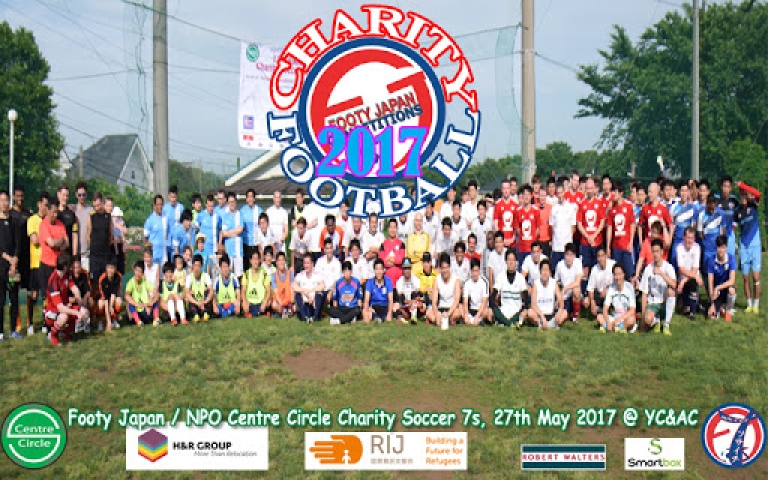 3 in a row for the Charity specialists Pumas
Announcements -
June 2nd 2017
The busiest day of the Footy Japan season came and went without incident. The 3rd Edition of hosting the 2 tournaments in one day was a great success. The youngest competitors were aged 5 and the eldest were in their 50's. They played for the love of the game but also helped raise money for Refugees International Japan.
The morning started with 57 BFA kids plus teams from 3 International Schools; St Maurs, Nishimachi and KAIS EMS. Also the Real Madrid Academy joined us too this year along with our hosts YC&AC. The morning went something like this: Matches, more matches, posing for photos, some more matches and for some lucky few an ice cream break in the middle. By 11:45 all the players were gathered in the middle of the pitch for the Award Ceremony. BFA Oranges took the U6 crown, BFA Blues the U8 , Real Madrid won the U10s and KAIS claimed the U12 title.
An hour later 12 Captains were gathered at the same spot for the Charity 7s Adults tournament meeting. Lenny Tui the Sala captain had called some minutes earlier to say he stuck in traffic carrying another Group A, Sala FC player. Minutes later Group B kicked off in Group A's place. So this saw Footy Japan KO earlier than expecting after a tough morning of kids tournament already in their tired legs, they went down 4-0 to Colliozone FC who were 7s newbies. FC Thaitans beat the BEFC White's 3-1 in the other game. Group A finally kicked off and Pumas beat PwC FUNS 4-0 and Sala with Lenny in the starting 7 beat the much fancied BEFC Red's 1-0.
Group C saw FC Shunsuke beat Budgies Smugglers 3-0 and last years Plate Champions White and Case beat Inter MinaotMirai 2-1.
With not much of a break, group A Continued with Pumas beating British Embassy 3-1 and then knocking 4 past Sala FC. BEFC Reds beat PWC 4-0 and Sala then went 2 better by knocking 6 past them. Group A was goal crazy!
Group B saw Collezione FC score 3 goals in all of their matches, Footy Japan finally won a game with a brace from myself!
Group C saw a thriller between Budgie Smugglers and Inter Minato Mirai. 3-3. FC Shunsuke were showing their youthfulness with 3 victories.
After goals galore group rounds it was time for the big knockout matches.
The Plate Semi Finals saw BEFC Whites narrowly lose to PwC Funs 1-0. On the other pitch Footy Japan were missing chance after chance and lost 2-1 to the Budgie Smugglers.
The Final was a great match I think. By this stage I was in clear up mode so didn't watch much of it and I didn't even write down the final score. 3-2 to PwC Funs is a complete guestimate!!!
The Cup 1/4 Finals saw the only PK shot out of the day. Collezione FC had drawn 2 all with FC Thaitans. 10 PK's later and The Thai team were heading into the Semi Final. Pumas FC were on fire by this stage. in 15 minutes they scored with every shoot v White & Case. 9-0....Whoof.
Shunsuke FC and BEFC Reds was an intense encounter. Two good teams but Embassy with superior fitness won 2-1. Sala FC v Inter MinatoMirai was a 7 goal thriller with Sala FC winning 5-2.
The Semi Finals saw Pumas score another 3, this time the unlucky team were FC Thaitans. BEFC Reds were ploughing on and were up against Sala FC. Looking for revenge after a 1-0 defeat earlier in the afternoon they managed to score 2 against Sala's one.
The Final saw 2 fit teams play like they could have played on for many more minutes. British Embassy went one up with the Pumas conceding a rare goal, Pumas hit back, BEFC then struck again but once again Pumas pulled it back to 2-2. With a few minutes to go Tsuyoshi the Pumas forward scored past keeper Ben. The Embassy tried to equalise but had no luck. Pumas secured their 3rd straight Charity 7s title.
Special thanks to all the staff at YC&AC and a report will follow with how much was raised for RIJ.
Gallery