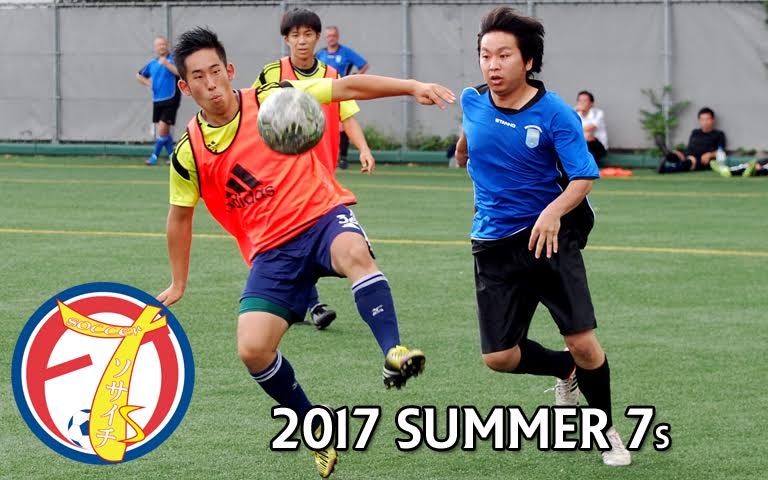 A Hiro's return for Collezione FC
Match Reports -
August 19th 2017
It was all change for the Summer edition of our Soccer 7s. A new location, different sized goals and the 3 goal bonus point scrapped from the rules page.
With Cricket being played at YC&AC, the 7s moved to St Marys the home of Albion Old Boys. Leading up to the tournament the main worry was the different sized goals. A few possible ideas were sent to the Captains but we decided to change our rules to make it slightly fairer. The 3 goal bonus point was the big loser.
By 09:20 all 12 captains had gathered for the morning meeting. The rules and format were explained. It was time for kick off. All 4 teams in Group A had 7 players at least but British Embassy only had 13 for their 2 teams. The biggest transfer of the morning saw my name being erased from the KGFC team sheet and added to the Embassy's.
Albion Old Boys had recruited 2 American travellers and got the goals flowing with a quick goal. They were playing BKFC who have missed the last few tournaments but were back with a large squad and looking to make an impression. They equalised and the game ended 1-1. The other match in Group A saw the athletic Shunsuke FC v the experienced Sala FC. Sala only had 7 and they soon ran out of gas and lost narrowly 2 goals to 1.
Group B saw KGFC without manager or Captain (Mr Carroll a no show due to a booze overdose) lose 2-0 to Collezione FC. Collezione had impressed in their debut 7s tournament in May and Captain Hiro was determined to do well on the ground where he learnt all his skills as a young school boy.
Oakwood Clash under their new Captain Matty Kershaw got off to a dream start with a 6-0 hammering of the BEFC Lions.
Group C saw British Embassy race to a 4 goal lead but Yokosuka Strikers scored 2 late goals and certainly improved as the game went on. 7s specialists Pumas defeated fellow Division 1 team BFC Tokyo 3-0 to complete the first round of matches.
The second round of matches kicked off just as the Sun came out. It hadn't made an appearance for 3 weeks, it was nice to come out but not this early in the day! The only standout result from the middle round of matches were shunsuke FC knocking 5 past BK FC.
The final group stage matches saw a few teams trying to avoid the Plate. Sala and BK FC shared a 9 goal thriller with Sala scoring 6 of the goals. Yokosuka strikers shared a 3 all draw with Pumas FC. Suddenly the goals were flowing and this was certainly the case in the knockout rounds.
Group stage winners were Albion old Boys, Collezione & Pumas.The best 2nd placed team was Shunsuke FC. The final 4 teams in the Cup were drawn in a hat. This saw Albion Old Boys demolish a tired British Embassy team 6-1. Adam the American traveller was not in the usual holiday mode of relaxing and indulging in excessive amounts of alcohol, instead he was indulging himself in goals and scored at least 4.
Collezione FC were kicking into gear and scored 3 past Sala. Shunsuke also scored 3 to defeat Oakwood Clash. Pumas played BFC Tokyo again but BFC got revenge and won 3-2 on penalties. This was the first of a few matches to be decided on penalties.
The Plate semi finals saw KGFC finally play some football and scored 6 past the Lions. Lions were unlucky to score 4 but still end up being on the losing side. BKFC v Yokosuka saw a late equaliser from Yokosuka which set up penalties. Sudden death saw BKFC Captain miss and Yokosuka were through to play KGFC in the final.
The Cup Semis saw AOB and Collezione draw 3 all. An epic PK shootout saw George 'Pele' Clarkson shoot over the bar and his former student Hiro then missed( Always the pupil). Eventually AOB missed another and Collezione were in the Cup Final. BFC Tokyo v Shunsuke was a tight semi final but Shunsuke came out with the victory.
The Plate final saw King George take an early lead. They looked comfortable until a bullet header with 1 minute left was enough to take the game to penalties. Sid stepped up and missed again. 2 misses in a row now from him in a King George shirt. (Sorry Sid but I had to get it in there somehow). A few PK's later and Yokosuka Strikers were celebrating a famous victory.
The Cup final was a one sided affair. Shunsuke FC were tiring while Collezione FC were like horses running free. 5-0 scoreline is all that needs to be said.
The award ceremony was short and sweet, Hiro had returned to his former school and lead his team to success in the Cup while a good Plate victory for debut buys Yokosuka Strikers.
A big thank you to my 4 referees and also to St Mary's for allowing us to host our Summer 7s tournament.
For photos from the day please click HERE.
Gallery