Japan's Most Successful European Exports
Announcements -
May 19th 2020
Japan's Most Successful European Exports


Credit - By Axel Schwenke - https://www.flickr.com/photos/schwenke/5908641469/, CC BY-SA 2.0
Football is one of the most popular team sports in Japan, along with basketball and baseball. The Japanese national team could be considered a success having featured in every World Cup since 1998, with a second-round finish currently their best effort. In that time, countries such as Italy and the Netherlands have failed to qualify, making the run even more impressive. The J-League is also a hugely popular division, both in Japan and across the wider world. It rose to prominence in the nineties with the presence of Gary Lineker at Grampus Eight, as well as Brazilian maestro Zico and the former Barcelona forward Hristo Stoichkov. Those superstars joining the division helped increase its appeal domestically as well, as did Japan's rules on sport's wagers. Expatbets explains how betting on the J-League is legal in Japan, helping to further push its popularity throughout the country. If fans can place wagers on the outcome of games and have world-star featuring in said matches, then they are likely to favour that sport over others. The influx of talent has not all be one way, with some Japanese players going over to Europe to ply their trade. Increasingly, the flow of players to big clubs with a rich history has improved, in turn helping drive the J-League's credentials as a serious player in world football, as well as help develop the national team. We have selected a handful of Japanese players who have gone on to make a real name for themselves in European football.
Shinji Kagawa


Credit - By Светлана Бекетова - https://www.soccer.ru/galery/1056314/photo/734994, CC BY-SA 3.0
Few Japanese players manage to make an appearance in the Premier League, one of the most prestigious tournaments in the world, but Kagawa managed that. Not only did he play in it for Manchester United, one of the world's biggest clubs, but he earned a winner's medal in 2013. To date, he is one of only two Japanese players to have won the trophy, with Shinji Okazaki lifting it with Leicester City in 2015. Kagawa also became the first Asian player to bag a hattrick in a Premier League game when he helped United beat Norwich City 4-0. He is also a two-time Bundesliga winner with Borussia Dortmund and has bagged a World Cup goal for his country, helping them beat Colombia 2-1 in 2018. He has made more appearances in the Champions League than any other Japanese player, scored more goals and made more European appearances too.
Hidetoshi Nakata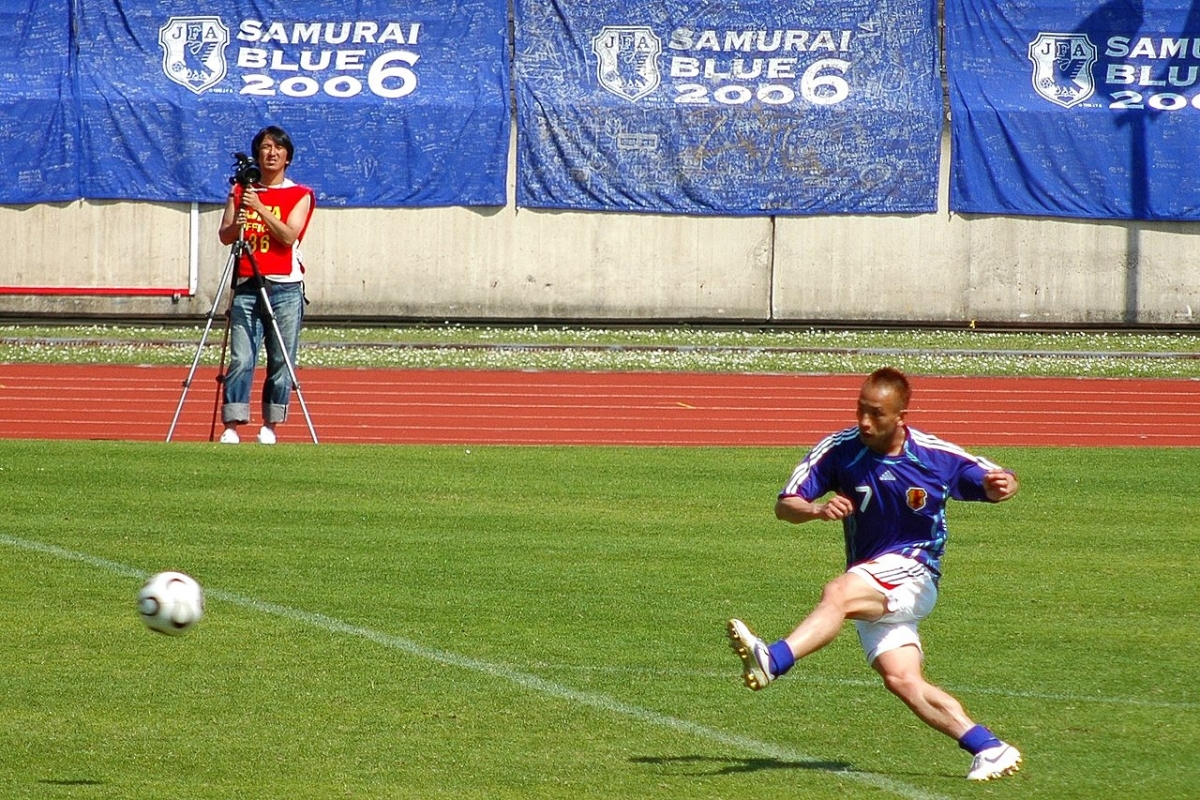 Credit – By Der Sascha - Own work, CC BY-SA 3.0
Nakata appeared in two major European leagues, Serie A in Italy and briefly the Premier League in England. He spent most of his career in Italy, appearing for Perugia, Bologna, Parma, Roma and Fiorentina, winning Serie A in 2001 whilst in Rome. He lifted the Coppa Italia a year later following a move to Parma, as well as appearing 77 times for his country. Nakata played in three World Cups for Japan, scoring in the 1998 tournament in a 2-0 win against Tunisia.
Shinji Ono


Credit – Wikipedia / By Eric Berry aka Efcso - Own work, CC BY-SA 3.0
Ono might not have had the rich experience that some of the others on this list did, but he was the first Japanese player ever to lift a major European honour. He won the 2002 UEFA Cup with Eredivisie side Feyenoord, although he did spend time injured during his spell in the Netherlands. After he left, he had stints with Bochum in Germany, Western Sydney Wanderers in Australia as well as more spells in the J-League. Netherlands midfield Wesley Sneijder once said of Ono; "He is the toughest opponent I've ever faced." Grand praise indeed from a giant of world football.
Yuto Nagatomo


Credit - By Майоров Владимир - http://www.soccer.ru/gallery/45233, CC BY-SA 3.0
The 33-year-old is still going strong in Europe, having twice won the Turkish Super Liga with Galatasaray. That silverware might be the crowning achievement of a long career for the full-back, but he is made this list by virtue of his longevity at another club. Internazionale, otherwise known as Inter Milan, are one of the biggest clubs in the world, steeped in rich history. Nagatomo made their full-back position his own, appearing 210 times in an eight-year stay at the San Siro.
If you're looking for some exercises to help you avoid injury, we have teamed up with our sponsors Club360 to bring you some videos helping keep you fit and on the field.